Please join us and achieve a more brilliant future together!
¡¡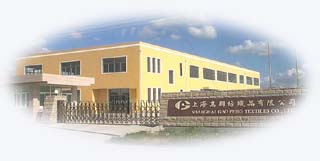 Shanghai Gao Peng Textiles Co.,Ltd. was set up in August 1995, mainly dealing with production, distribution and exporting of handkerchiefs, printed bandanas and bedding products for hotels and homes with various kinds. Our products are popular with customers in home and abroad, which fostered our images of one of the most competent manufacturers and suppliers in the international textile industry.

Our factory is located in Sheshan Minqiang Economic Zone of Songjiang District in Shanghai, covering an area of 13,000 square meters. Till now, we have completed 2,600 square meters' workshop which is equipped with 100 sets of stitching machine in Brand of Standard, 240 looms and two flat net printing lines. Our annually productive capacity is up to 1.5 million doz. of top grade(40s and 60s) of woven and printed handkerchiefs, 300 thousand sets of quilts (Ind. 1 comforter and 2 pillowcases), 500 thousand sets of fitted sheet sets (Ind. 1 flat sheet, 1 fitted sheet and 1 or 2 pillowcases).

In addition, we have a group of technical talents majoring in weaving, dyeing, cloth-cutting. To maintain the good quality is our first principle. And compared with other companies, we are really competitive, since our products are excellent in function-via-price. Our products have been exported to the United States and Canada; European countries such as Germany; Australia and New Zealand; Middle East; Japan and Southeast Asia for more than ten years and enjoyed good quality reputation. Because of our competitive price and superior quality, we could accomplish over 8 million U.S. Dollars' gross income per year with the distribution volume of bedding items increased fastest.



The more and more rapid rhythm of people¡¯s daily life requires higher and higher quality demands for domestic textile products. Our aim of enhancing the daily lives¡¯ quality encourages us to create new products and to improving our former products. We are devoted to creating better and comforter conditions of working and living for you. In recent years, the whole staff of our company has been experiencing continuous innovations to apply more scientific and technological means to the manufacture of our products. The new products with such new technologies as the compound materials, water-proof materials are popular with our customers, old and new, home or abroad.

We boast hard working, sincerity and honesty, respects for employees and customers. And we also pay our attentions to the surrounding environments. As our company is experiencing breakthroughs for higher level, we will try our best to serve the customers better all over the world.

Please join us and achieve a more brilliant future together!